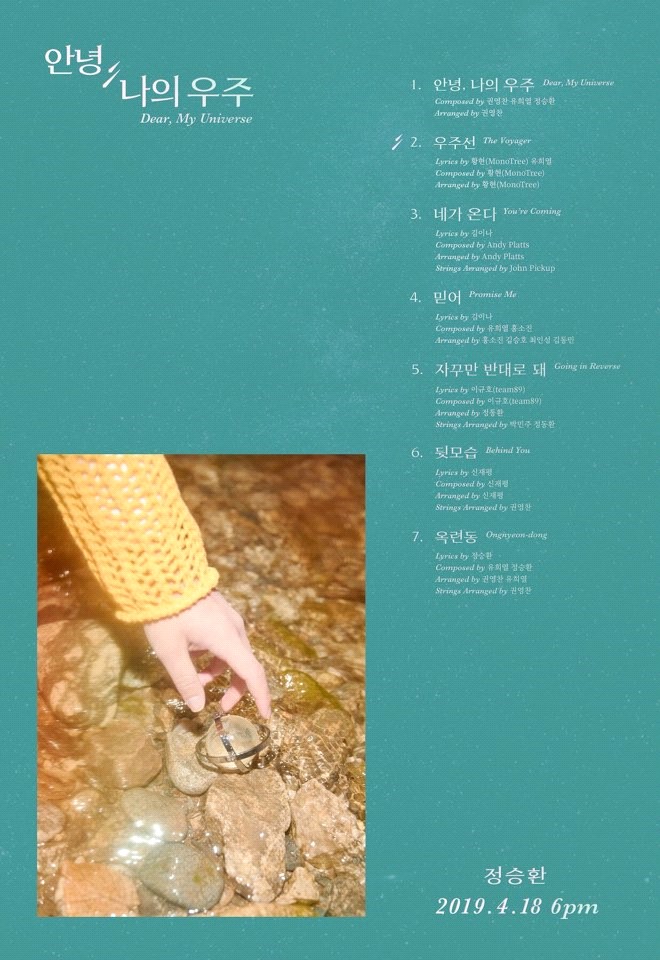 Jung Seung hwan made come back with his new song, "Dear, My Universe," on April 18 unveiled the track list.
In morning On April 9, Jung Seung hwan released a total of seven tracklist with a large lineup of outstanding songwriters through his agency SNS and the official promotion page of his mini second album "Dear, My Universe" raising expectations for his comeback. Since his debut album, Jung Seung hwan has included his own songs in every album, and this time, he has also put a song on the final track that tells the autobiographical story of "Okryeon-dong."
The title track "The Voyage" is a song by Hwang Hyun (Monotree), which is a high-end ballad track with an assimilation sentiment, plus a vocal and dim mood that resonates with Jung Weung hwan's unique heart. Hwang hyun's sensibility and golden combination of the production team Monotree, who first collaborated with Jung on a song with less Hwang Hyun and Yoo Hee-yeol, add to expectations.
Jung Seung hwan's "Dear, My Universe" opened a pre-orders page on an online music sales site and released the album's specifications from April 8.
Earlier, Jung Seung hwan unveiled his album teaser for the album, which will be the first track of "Dear, My Universe," and will be a long journey, raising fans' expectations.
Jung Seung hwan's second mini album "Dear, My Universe" is released on the online music site April 18.