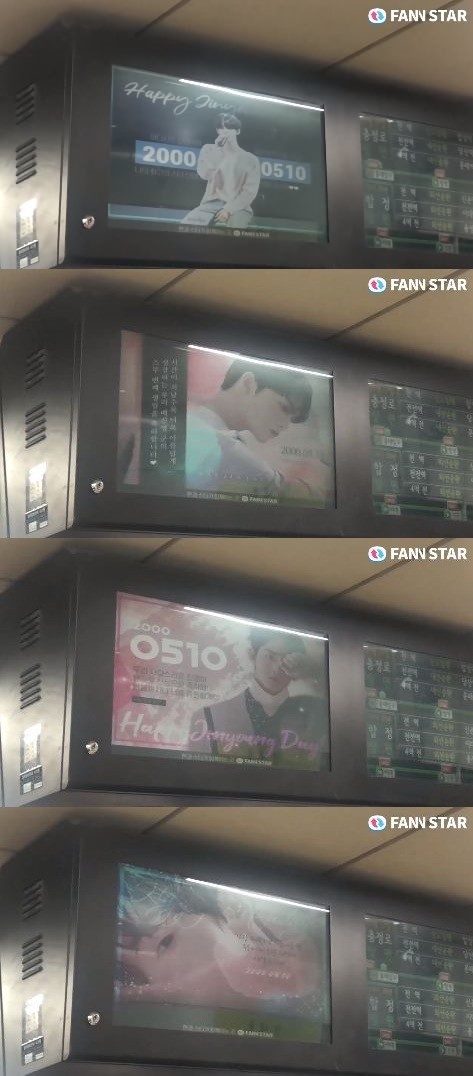 [The Fact] The idol weekly ranking website FAN N STAR operate by The Fact, successfully supported singer Bae Jin young's birthday and unveiled an electronic display board showing in South Korea and Japan.
FAN N STAR released a video of Bae Jin young's birthday on May 10, which is being shown on the subway electronic display board on Seoul's No. 2 line. On April 5, FAN N STAR held a birthday celebration for Bae Jin young and achieved 100 percent. This confirmed advertisements for 43 subway stations on Seoul's No. 2 subway line from May 7 to 13.
The released video lists the messages and photos of fans who participated in Bae Jin young's support.
The nick name '배지냐고먐미' said "My precious treasure Jinyoung~ Happy birthday. Thank you always. I love you." Nick name '배챙이할매' said "Happy birthday, Jinyoung!"
The nick name 'baeby_optimus' said "Congratulations on your 20th birthday, Bae Jinyoung." Nick name '지뇽아내가간다' said "Happy birthday to our lovely Jinyoung! I will always support you." And nick name '배진영러브유' said "Thanks for coming to us these warmest month, Happy Birthday!"
Bae Jin young had a special time meeting with fans at home and abroad at the first fan signing event marking the release of her first single album 'Hard To Say Goodbye' at Sangam Stanford in Mapo-gu, Seoul, on May 4 and at Samik Art Hall in southern Seoul on May 5. After his first Asian fan meeting tour and individual activities in the first half of this year, he will make his official debut as the group's C9BOYZ in the second half of this year, and will also work as a team.