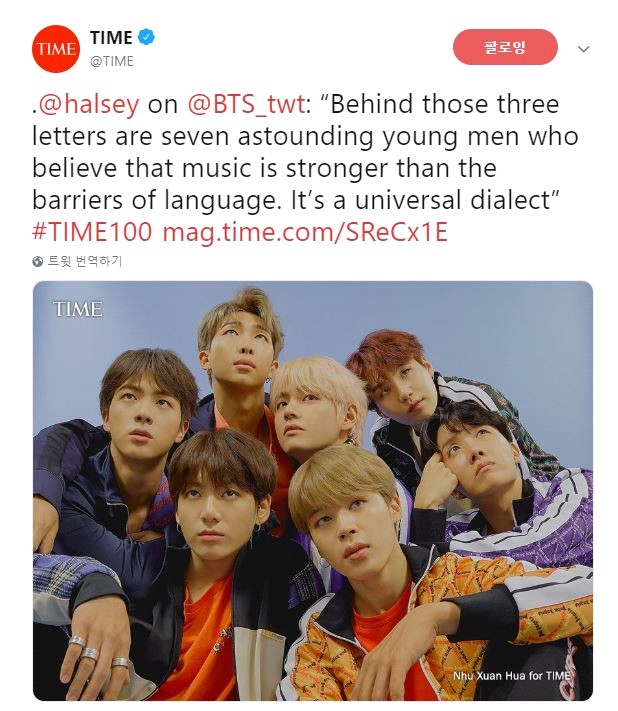 Group BTS has been selected as the "100 Most Influential People in the World" by the U.S. weekly magazine Time.
Time published an article on April 17 in thier "2019 Most Influential People 2019" and released a list of 100 people including BTS, Pope Francis, U.S. President Donald Trump, former U.S. First Lady Michelle Obama, Taylor Swift and Lady Gaga.
BTS made it to the 100-member list for the first time this year.
"BTS were able to reach the top by having amazing talent, charm, kindness and altruism as well as a dedicated community," Time said in a recommendation from Halsey, a singer-songwriter who was nominated for the Grammy Awards.
For the 16th time this year, Time selected 100 people from five categories -- pioneers, cultural and artistes, political and religious leaders, icons and Titan. BTS joined Khalid and Ariana Grande in the artist category.
Time said that BTS won the top spot for the second consecutive year after 2018, with about 6 percent of the vote in the "2019 Time Reader Poll." On April 16.
"BTS won numerous awards and became a social media phenomenon with 19 million followers on Twitter when he began to gain global fame in 2013," Time said. "they were named Time's '25 Most Influential People on the Internet' in 2017 and 2018.
Time "2019 Most Influential 100 People," of BTS, is available on Time's official website and posted on April 29 issue.